Houston AC Installation
Free Estimates Available for Same Day or Next Day Air Conditioning Installations in Houston, TX and the Surrounding Areas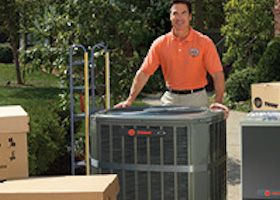 Sometimes, your air conditioning unit no longer works and repairs are entirely too expensive. This is when it is time for a new air conditioning installation. Living without an air conditioner can make your home uncomfortable – we understand how important it is to install a system as soon as possible. When you work with Smart Air, we can normally complete an installation within a day to get your Houston home as cool as possible.
Reliable Installations on Reliable Brands
There is not a one-size-fits-all solution to cool your home. Every house and family has vastly different cooling expectations and needs. Our Houston AC installation technicians assess your needs and provide reliable, affordable solutions to remain comfortable. We are proud to work with the best brands, makes, and models to make this possible.
We Install The Following Brands:
Trane
Ruud
Aspen
Ameristar
Weather King
Using a new air conditioning unit can provide cleaner air, reliable cold temperatures, and lower energy bills. Every air conditioning installation specialist is factory trained and licensed. We remain updated on the latest in cooling technology and procedures in order to provide the best service for our clients.
For a free estimate on your next AC Installation in Houston, call (281) 809-6444 today!
How Long Should Air Conditioners Last?
Depending on the brand, model, and other such factors, on average an air conditioning system should last for 15 to 20 years. However, investing in regular maintenance, inspection, and necessary repairs can help extend the life of your AC unit. Similarly, if you neglect routine and needed services your air conditioner could potentially see an early breakdown. If you are unsure if your AC unit is failing, watch for the following signs that indicate a replacement is in order.
Signs Your AC Is Going Out:
If your air conditioner is need of frequent and similar repairs
If the system has a significant leak
If there is a lack of airflow emitting from the system
If your original air conditioning unit was installed incorrectly or is the wrong size for your property
If your AC unit is no longer producing cool air
If the air conditioner won't start up
A failing AC is not the only reason to consider a replacement. If your air conditioner uses Freon refrigerant or if you simply want to have a more energy-efficient and eco-friendly system, you should consider installing a new air conditioner. Our team of Houston AC installation experts are happy to answer any questions you may have to help you find the best system for your cooling needs.
High-Quality AC Installations Throughout Houston
An air conditioning installation can be an immense investment. Unlike other companies that will install the improper unit in order to collect a paycheck, Smart Air only installs the right system for your building. This keeps your initial installation and ongoing energy costs down. Our HVAC technicians are factory trained and stay abreast of industry trends to provide the best solutions.
Our Houston AC installation services are only the beginning. We work with your air conditioning unit to keep it running for years to come. Reach out to (281) 809-6444 to escape the heat!